Make sure to read my companion article about Kegal exercises and how they are important to your kitty health!
I was excited to bring you these reviews! With V-Day on our heels these two gems would be an awesome way to get those PCs (Pelvic Muscles) in shape! The first in the pack is the Vr1.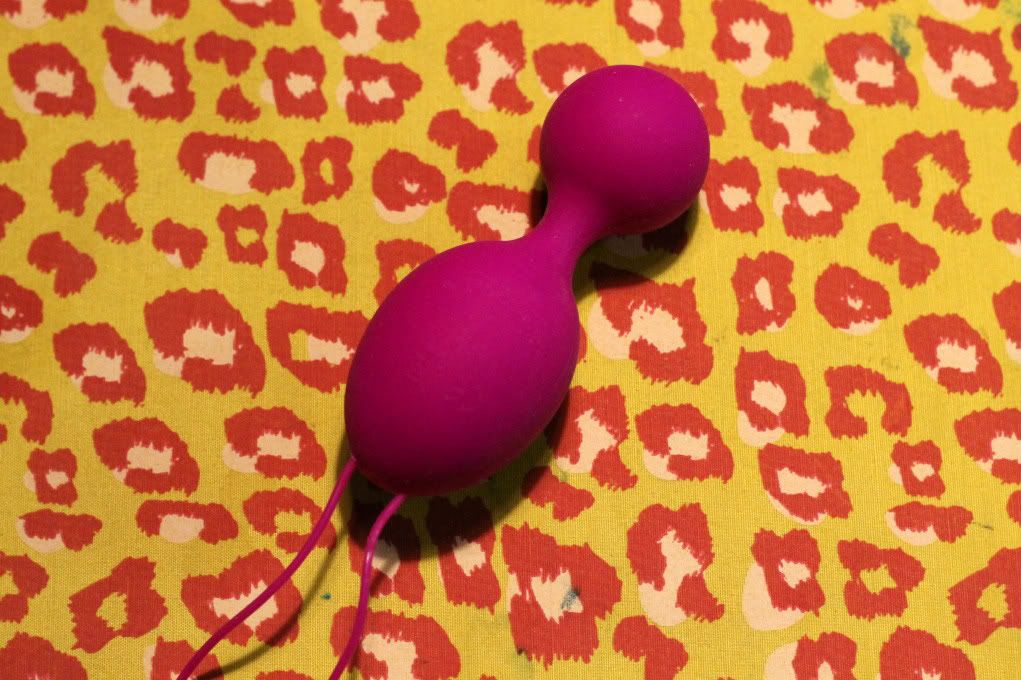 The Vr1 is JOPEN's contribution to the Egg exercisers and a fantastic addition it is! Made out of the same soft velvety materials as the Vr7.   The Vanity Vr1 is a beautiful little luxury vibrator that boasts a kind of versatility few in its class can. With its slightly lopsided hourglass shape, the Vr1 has a silhouette familiar to those of us that have an interest in vaginal exercisers. Of course, this toy has one very important feature that no other kegel exerciser out there does – dual motors (one in each ball) to motivate the wearer into working those PC muscles! Yes, I said it Kittens. DUAL MOTORS. By clenching your pelvic floor muscles around the largest ball the vibrating motors are activated and this touch activated section responds with greater vibration in turn for greater pressure. In other words? Doing good, strong kegel crunches will always be rewarded with more powerful vibrations.  The harder you squeeze, the bigger the reward. :o)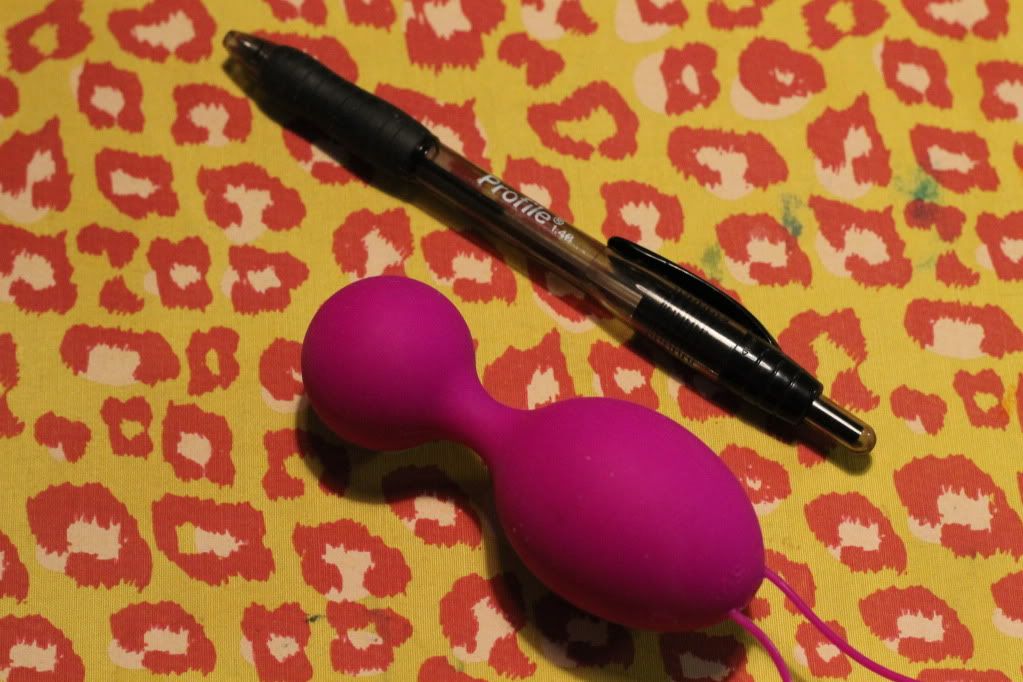 The Vr1 also has a "pleasure mode" which allows for continuous vibrations in the absence of kegel muscles contractions. By activating the pleasure mode you can simply insert your Vr1 as you would any other vibrating egg and enjoy the rolling humming from the powerful dual motors. This exerciser has two distinct functions that overlap beautifully: exercise and pure pleasure. How you use it is up to you and the mood you're in! Don't worry, there's no way for it to get stuck or lost up there because it has a nice strong retrieval string.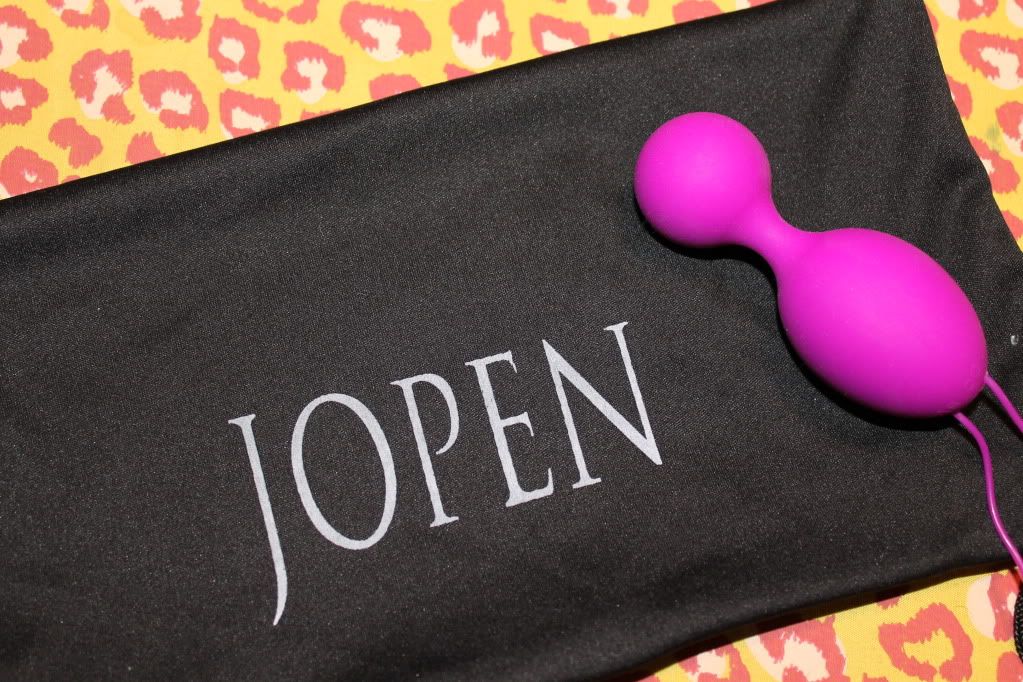 The Vr1 also comes with its very own storage bag to keep it safe when not in use.  The Vr1 is also special in that it is entirely waterproof and comes with a AC adapter for charging it.  The battery life is great in that you can easily put it in on the way out the door for work and still be having fun with it when you get back home. The Vr1 retails for around $160.
The Intensity
The name for this exerciser is right on.  When I first received it I was a little intrigued because of how different it it from all the other toys I have seen, used and received. It comes really nicely packaged and with instructions for how to use it correctly.
The Jopen Intensity is a g-spot and clitoral vibe that produces electro-stimulation, which sends your vaginal muscles instantly into the same contractions that an orgasm does. Yep. It's literally a orgasm in a box…longer and stronger ones.  Slow and building in the lower settings, or body-shaking at the higher settings.  It's also inflatable to fit a wide range of bodies and easy to use controls.
Intensity is designed as a combination electro-stimulation device and a traditional dual stimulator for women. To begin your experience, there are internal vibrations delivered through the shaft, and clitoral vibrations delivered through attached bullet on top. The bullet is very flexible and can be moved around to hit your "oh" spot.  When you're aroused, you may choose to inflate the shaft to fill your body to your ideal fullness. When the contacts are in place against the walls of your vagina, you can begin the electro-stimulation. Can you say YOWZA?
YOU should not use the Intensity anally, and that it should be avoided by those with pacemakers and those who are pregnant. The Intensity IS NOT waterproof and runs on four AAA batteries.  It should be cleaned carefully with mild soap and water (applied by a damp cloth) or with toy wipes. Lastly, only water-based lubricants should be used with Intensity. You may also choose to use some of the included (2oz) Electrode Gel that is included with the set.
The Intensity retails at around $249. SO VERY WORTH IT.
---
Vonda Howard is the author of four novels, including the widely popular, D-Cup Dives Series that features sexy, and confident plus sized women. She is also the Editor-In-Chief of Black Literature Magazine. She also enjoys appletinis, gummy bears, Chipotle and all things filled with glitter and sparkles.
All author posts